Import PrestaShop products to facebook shop
Hello, I have found this module of yours: Prestashop Export catalog for facebook pixel dynamic ads
I need to import products from my prestashop store to my facebook store.
Does this module do it through the facebook pixel?
Can it be done automatically?
I wait for your answer to buy it, I think that is what I need.
Hello
Module to export products creates a CSV file, or online feed of products. It itself does not import items anywhere.
The import tool is a part of facebook side. Facebook does not support auto-import stuff from prestashop to facebook shop currently.
You can only create products catalog with items:
https://www.facebook.com/business/help/1275400645914358
So, "export catalog for facebook pixel" module is useful when you create products catalog for advertising purposes (see url i shared)

Thank you very much for your reply.
So, that module what it does is generate the CSV file with the products and categories with the format that Facebook needs to import them, right?
Then the CSV or Feed is imported from the ad or business manager
If so, then I make the purchase.
Correct,
module creates a csv file or on-line feed with products that is formatted to work properly with facebook's "import" feature, so products can be imported "to facebook" with business manager.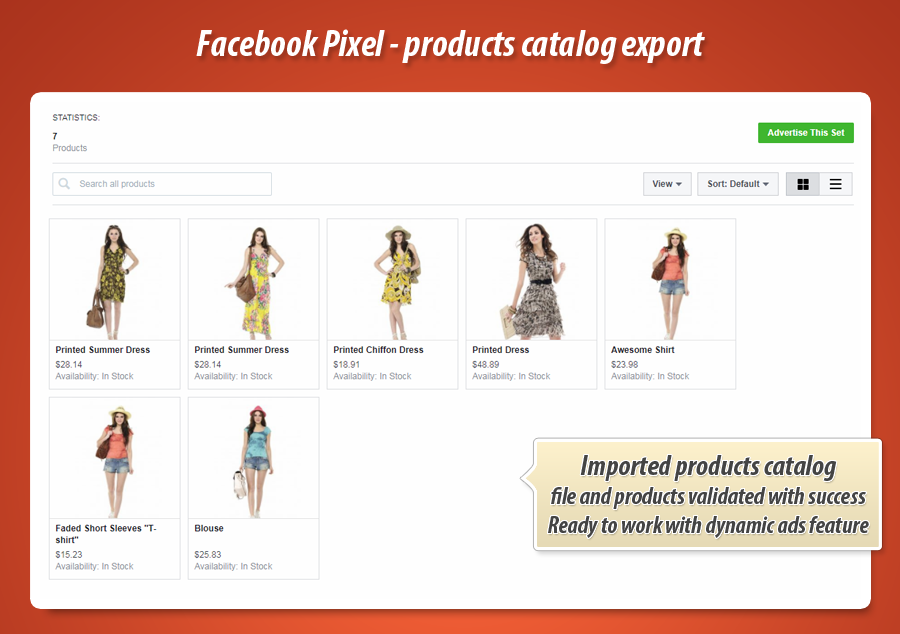 Import PrestaShop products to facebook shop
Reviewed by
VEKIA
on
Friday, February 08, 2019
Rating: